Search NCIBI Data
(e.g. diabetes, csf1r)
Login

HighLights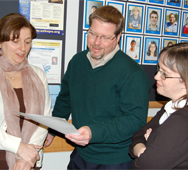 PEOPLE
Collaborations are central to NCIBI efforts. NCIBI partners and cross-disciplinary teams work together to advance biomedicine and enhance the national impacts of NCIBI's innovations.
Computer scientists on our teams specialize in systems and database architectures, natural language processing, interactive visualizations, software development, and user interfaces. They work side-by-side with bioinformatics experts, statisticians, life science specialists, and clinical researchers in our driving biology projects. Together with user experience and usability testing experts in every phase of development, these cross-functional collaborations assure that systems are user-centered.
NCIBI teams aim for systems that facilitate the needs and practices of partnering scientific communities and augment biomedical exploratory research. Turning innovations into practice depends on our additional specialists skilled in dissemination, instruction, web development, new media, graphic arts, and state-of-the-art infrastructure and communications capacities.
Featured Profile
Neil Warner, Ph.D.
Dr. Neil Warner is a Post Doctoral Research Fellow at the University of Michigan's Department of Pathology. His current research "is focused on investigating both normal signal transduction events downstream of Nod-like receptors and their disruption in diseased states." "In particular, I'm undertaking both biochemical and genetics approaches to identify and characterize novel regulators of Nod2, a NLR (Nod-like receptors) family member known to be deregulated in a variety of inflammatory disorders including Crohn's disease and Blau Syndrome. More