Search NCIBI Data
(e.g. diabetes, csf1r)
Login

NCIBI - "Try Our Tools" Virtual Workshops
At our Annual Research Meeting in 2010, we ran four tutorial workshops. We have made these tutorials and videos of the workshops available from this page below.
Support files for the workshops can be found below including Cytoscape with the required pugins for the MetScape workshop.
We also have archived our Virtual Workshops from the NCIBI Annual Research Meeting in 2009.
Virtual Workshops
Below are the video workshops as well as links to download the files and the user manuals you will need to download and access for each demonstration module during the workshop.
Related files:
ConceptGen User Manual
Launch PubAnatomy workshop video
Related files:
PubAnatomy User Manual
Launch MetScape workshop video
Related files:
MetScape User Manual
time_series_data.txt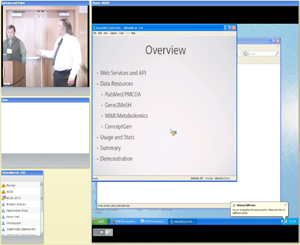 Module 4: Programic Interfaces and Web Services

Launch Web Services workshop video
Related files:
Webservices User Manual
Download all workshop files in zip format
Workshop Support Files - includes all user manuals and Cytoscape with Metscape plugin (120MB .zip) *
* See the readme.txt file contained in the zip archive for file and installation details.