Search NCIBI Data
(e.g. diabetes, csf1r)
Login

HighLights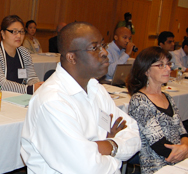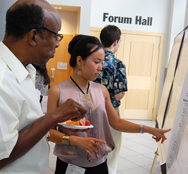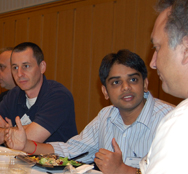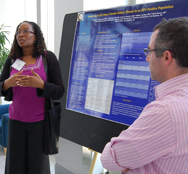 2010 NCIBI / RCMI - Workshop on Translational Bioinformatics
U-M, Ann Arbor, MI / July 29 - 30, 2010
About the Workshop
The 2009 NCIBI/RCMI Workshop on Translational Bioinformatics provided a platform to identify mechanisms to build and/or strengthen research collaborations on integrative biomedical informatics between The Research Centers in Minority Institutions (RCMI), RCMI Translational Research Network (RTRN), and NCIBI. The feedback from last year's workshop participants provided the basis to organize the 2010 NCIBI/RCMI Workshop on Translational Bioinformatics - July 29-30, 2010.
The two day workshop provided RCMI investigators training in the use of NCIBI tools and resources for translational research, and helped build research relationships to develop resources for the study of health disparities. The workshop provided an introductory hands-on tutorial with the NCIBI tools, followed by sessions tentatively focus on RTRN translational research clusters that overlap with the NCIBI driving biological projects in cancer, diabetes and nephropathy.

The hands-on tutorials this year focused on Next Generation Sequencing, specifically RNA-Seq, presented by Jim Cavalcoli, Rich McEachin, Xiao-Wei Chen and Yongsheng Bai (Download PDF). A second tutorial on Metabolomics was presented by Alla Karnovsky (Download PDF). Additional files and materials for both tutorials are found in rcmi2010.zip.
NCIBI Presenters
Kenneth J. Pienta, M.D.
Associate Dean, Clinical Research American Cancer Society Clinical Research Professor University of Michigan Medical School

Gilbert Omenn, M.D., Ph.D.
Sr. Director, Center for Computational Medicine and Bioinformatics
Professor of Internal Medicine, Human Genetics, Public Health and Bioinformatics University of Michigan Medical School

Brian Athey, Ph.D.
Chair Designate, Computational Medicine and Bioinformatics Professor,
Biomedical Informatics, Psychiatry and Internal Medicine University of Michigan Medical School

"Translational Informatics 2010: Catching the Wave"
- Watch Workshop Presentation

H V Jagadish, Ph.D.
Bernard A. Galler Collegiate Professor, Electrical Engineering and Computer Science University of Michigan Medical School

Charles Burant, M.D., Ph.D.
Professor, Internal Medicine-Endocrinology and Metabolism Professor,
Molecular and Integrative Physiology University of Michigan Medical School

"Metabolomics Introduction"
- Watch Workshop Presentation / Download PDF
NIH Guests
Anthony Hayward, M.D., Ph.D.
Associate Director, National Center for Research Resources
National Institutes of Health

"CTSAs: Informatics Resources for an Age of Translation"
- Watch Workshop Presentation / Download PDF

Karin Remington, Ph.D.
Director, Center for Bioinformatics and Computational Biology
National Institute of General Medical Sciences National Institutes of Health
Michael Sayre, Ph.D.
Deputy Director, Division of Research Infrastructure
National Center for Research Resources National Institutes of Health
RCMI Participants / Presenters
Hassan Brim, Ph.D.
Assistant Professor
Howard University

"Do the Gut Flora Play a Role in Colon Carcinogenesis in African Americans?"
- Watch Workshop Presentation / Download PDF

Romulo de Castro Jr., Ph.D.
Professor, Director of Translational Research Concierge Services
Charles Drew University of Medicine & Sciences

Bonnibel Delgado
Research Assistant II
University of Puerto Rico Medical Sciences Campus

"Clinical Proteomics Discovery Core Facility Provides New Resources for
Biomedical Research"
- Watch Workshop Presentation / Download PDF

Robert Dottin, Ph.D.
Professor, of Biology, Director Center for Study of Gene Structure and Function
Hunter College

"International Collaborative Technologies for Bioinformatics Education and Community Health"
- Watch Workshop Presentation

Yayin Fang, Ph.D.
Assistant Professor, Department of Biochemistry
Howard University

Furqan Haq, Ph.D.
Project Manager, Research Centers in Minority Institutions Translational Research Network
Charles Drew University of Medicine & Sciences

"RTRN Collaborative Research Activities"
- Watch Workshop Presentation / Download PDF

Raphael Isokpehi, Ph.D.
Associate Professor, Department of Biology
Jackson State University

"Exploration of Collaborative Projects using NCIBI Tools and Datasets"


Hae Ji Kang, Ph.D.
Researcher, Pacific Center for Emerging Infectious Diseases Research
University of Hawaii at Manoa

Ming-Ying Leung, Ph.D.
Professor of Mathematical Sciences and Director of Bioinformatics Program
University of Texas at El Paso

"Developing Computational Tools for RNA Structural Prediction, Proteomics
Analysis, and Mammogram Enhancement"
- Watch Workshop Presentation / Download PDF

Omolola Ogunyemi, Ph.D.
Associate Professor, Medical Sciences Institute
Charles Drew University of Medicine & Sciences

"Probabilistic Reasoning for Medical Decision Support"
- Watch Workshop Presentation / Download PDF

Srinivas Patkar
Bioinformatics Research Associate
RTRN Data Technology Coordinating Center

Wei-Gang Qiu, Ph.D.
Associate Professor of Biology
Hunter College

"Population Genomics of the Lyme Disease Pathogen"
- Watch Workshop Presentation

Romonia Renee Reams, Ph.D.
Ph.D., Associate Professor
Florida A & M

"Genomics of Prostate Cancer Health Disparity-Beyond the Gene List"
- Watch Workshop Presentation / Download PDF

Keyur Talsania, MS
Research Associate, Biostatistics
DTCC – RTRN, Jackson

Clayton Yates, Ph.D.
Assistant Professor Department of Biology and Center for Cancer Research
Tuskegee University

"Influence of Tumor-Stromal Interactions on Metastatic Prostate Cancer"
- Watch Workshop Presentation / Download PDF